Belts and Hose Inspection
Computerized Engine Analysis
Cooling System Maintenance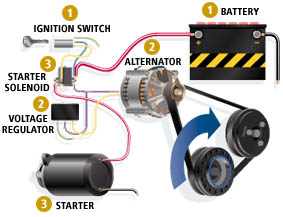 We can help you choose the right battery for your vehicle and lifestyle. Our staff can safely and professionally install your battery and get you back on the road.
Your car's electrical system powers everything from the ignition and fuel systems to accessories such as your radio, headlights and wipers. The electrical system is, in turn, powered by the engine. Here are the three key components of the electrical system:
Battery
When your car's engine is off, the battery provides the required power to the rest of the system, as well as during start-up (cranking). It also supplements the power from the charging system during periods of high demand. 
Charging System
This is the heart of the electrical system. It consists of three main components: the belt-driven alternator, various electrical circuits, and a voltage regulator. The alternator supplies power to the electrical system and recharges the battery after your car has started. Just like it sounds, the voltage regulator controls the voltage, keeping it within the operating range of the electrical system. 
Starting System
This system consumes more electrical power than any other in your car. The starting system consists of three components which work in tandem: the ignition switch, the starter relay or solenoid, and the starter motor. The ignition switch controls the starter solenoid, which activates the starter motor. The starter motor then turns the engine until your car starts.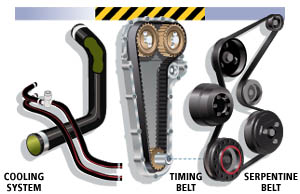 Exposure to heat, vibration and contamination makes belts and hoses wear out faster than any other components in your car. That's why regular inspections are so important. Here are the belt and hose types in your car, along with their applications.
Accessory Drive Belts
While some accessories in your car are electrically powered by the charging system, others use the engine itself as their power source. The power for these accessories is delivered by a system of pulleys and belts. Examples of these accessories are:
Alternator
Water Pump for engine cooling
Power Steering Pump
Air Conditioning Compressor
Radiator Cooling Fan
Many late model cars use a single serpentine belt in place of individual belts to drive these accessories.
Hoses
The hoses that convey your car's fluids are made of two rubber layers with a layer of fabric in between. Typical hoses include:
Radiator and Heater Hoses – These hoses convey coolant to the engine and heater core.
Fuel Hose – As the name implies, this hose transports gasoline from the tank to the engine.
Power Steering Hose – It connects the power steering pump to the steering gear.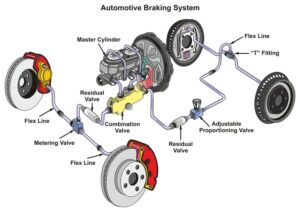 The brake system is actually composed of two kinds of systems—Hydraulics and Friction Materials. Here's what happens within these systems between the time your foot hits the brake pedal and your car stops.
Hydraulics
Master Cylinder
When pressure is applied to the brake pedal, the master cylinder creates hydraulic pressure which pushes brake fluid to the wheel brakes.
Brake Lines and Hoses
Steel brake lines and high pressure rubber hoses are the avenues through which the pressurized brake fluid travels.
Wheel Cylinders and Calipers
These are the hydraulic cylinders that apply pressure to the friction materials, causing your car to stop.
Friction Materials
Disc Brake Pads and Drum Brake Shoes
These brake linings are composed of high temperature materials that create the friction that stops your car.
Types of Brakes
Disc Brakes
Disc brakes consist of a Disc Brake Rotor, which is attached to the wheel, and a Caliper, which holds the Disc Brake Pads. Hydraulic pressure from the Master Cylinder causes the Caliper Piston to clamp the Disc Brake Rotor between the Disc Brake Pads. This creates friction between the pads and rotor, causing your car to slow down or stop.
Drum Brakes
Drum brakes consist of a Brake Drum attached to the wheel, a Wheel Cylinder, Brake Shoes and Brake Return Springs. Hydraulic pressure from the Master Cylinder causes the Wheel Cylinder to press the Brake Shoes against the Brake Drum. This creates friction between the shoes and drum to slow or stop your car.
Parking Brake
The Parking Brake uses Cables to mechanically apply the brakes (usually the rear brake.) This is used to prevent the car from rolling when not being driven.
Anti-Lock Brakes: A System Built For Safety
Computer-controlled anti-lock braking systems (ABS) are a recently developed safety feature. When sudden stops are made, the ABS prevents wheel lock-up. The system is comprised of wheel-speed sensors that monitor wheel rotation, computer-controlled hydraulics that pulse the brakes on and off rapidly, and the on-board computer. Computerized Engine Analysis
Your modern vehicle's engine is a highly sophisticated piece of equipment. The days of your father's gas-guzzler are long gone—instead, Federal Exhaust Emission and Fuel Economy regulations demand that today's vehicles be equipped with electronic engine control systems, to curb carbon emissions and increase fuel efficiency. With technically-advanced control systems taking the place of simple engine components, common maintenance services such as tune-ups are also a thing of the past. Regular services (such as spark plug and filter replacements) are still required, as well as a computerized analysis of your vehicle's control computer. Our factory-trained technicians are here to provide these basic services.
Here's how your modern vehicle's control computer operates:
A network of sensors and switches convert and monitor engine operating conditions into electrical signals. The computer receives this information, and, based on information and instructions coded within this savvy computer program, commands are sent to three different systems: ignition, fuel, and emission control. Whenever a problem arises (as seen by that nagging "check engine" light), our service pros check whatever command is prompted, in addition to the status of your engine control computer and sensors. That way you'll know if your vehicle's performance is caused by a real problem, or just a sensor/computer issue.
Here's a brief overview of your vehicle's sensory components:
Mass airflow sensor
Throttle position sensor
Manifold absolute pressure sensor
Coolant temperature sensor
Exhaust oxygen sensor
Crankshaft position sensor
Camshaft position sensor Cooling System Maintenance
What Our ASE Certified Technicians Do
The following components are inspected. Their condition is recorded and compared to manufacturer's specs. Recommendations are made per the Motorist Assurance Program Uniform Inspection Guidelines:
Heating and Air Conditioning Systems
Visual Inspection
Interior controls and blower
Radiator coolant level, hoses, pressure cap and thermostat
The A/C compressor belt for condition and tension
Leaks or other damage
Component condition, leaks or damage
Heating and Air Conditioning Tests
Pressure test engine cooling system
A/C system pressures are measured and compared to manufacturer's specifications
A/C system is leak tested
Both the heater and A/C are performance tested by checking the outlet air temperature at the discharge vents The axle on your vehicle is the structural component that connects two wheels together on opposite sites. It's a load-bearing assembly that acts like a central shaft, maintaining the position of the wheels relative to each other and to the vehicle body. The construction of your axle is designed according to what your vehicle is built for; trucks and off-road vehicles are equipped with axles that keep the wheel positions steady under heavy stress (ideal for supporting heavy loads), while conventional axles are constructed for the needs of the general consumer. But no matter what you drive, remember that your vehicle's axle must bear the weight of your vehicle (plus any cargo) and the acceleration forces between you and the ground. So when it comes to axle inspection, we are your source for professional, knowledgeable service—essential for the equipment that carries you and your family to wherever you need to go.
Here is a brief description of the most common axle design:
Drive/CV Axle:
Simply put, a drive axle is one that is driven by the engine. Typically found in modern front wheel drive vehicles, a drive axle is split between two half axles, with differential and universal joints between them. Each half axle is connected to the wheel by a third joint—the constant velocity (CV) joint—that allows the wheels to move freely. This joint allows the shaft to rotate, transmitting power at a constant speed without a significant increase in friction and heat. CV joints are usually dependable, but, as is the case for all of your vehicle's moving equipment, they do require regular inspection. An easy way for you to tell if you need to see us for axle repair is to go out to a large space (such as a parking lot), and slowly drive in tight circles. If you hear a clicking or cracking noise, you have a worn joint, and it must be repaired immediately.
We will have you back on the road, "click-free" in no time! Your exhaust system is more than a muffler. It is a series of pipes that run under your car, connected to your muffler and catalytic converter. The main function of your exhaust system is to control noise and to funnel exhaust fumes away from passengers.
In some ways, a car's exhaust system works like a chimney on your house, directing the byproducts from burning fuel away from the people inside. A car's exhaust system routes waste gases from the engine to the rear of the car, where they are discharged into the atmosphere. Exhaust gases contain dangerous substances such as carbon monoxide, which can be hazardous if allowed to flow into the passenger housing of the car.
The exhaust system also converts pollutants into less harmful byproducts, reduces the noise of the engine, and directs exhaust gases so they can be used to heat air and fuel before they go into the engine's cylinders to be burned. Finally, the exhaust system provides just the right amount of backpressure into the engine to improve its fuel-burning efficiency and increase performance. Key components of your exhaust system include:
Exhaust Pipes:
Designed specifically for each car model to properly route exhaust to the back of the car.
Exhaust Manifold:
Acts like a funnel, collecting exhaust gases from all cylinders and releasing it through a single opening. Some engines have two.
Catalytic Converter:
Designed to reduce the amount of harmful emissions products by transforming pollutants into water vapor and less harmful gases.
Muffler:
Metal container with holes, baffles, and chambers that muffles exhaust noise.
Resonator:
Works with the muffler to reduce noise.
Tail Pipe:
Found at the back of the car, the tail pipe is designed to carry exhaust gases away from the vehicle
All components of the exhaust system are connected with a series of clamps, hangers, flanges, and gaskets.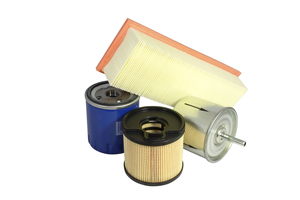 Check the owner's manual to see if your driving habits are considered to be "severe service." This type of driving requires more frequent oil changes, warns the Car Care Council. Have the oil changed accordingly, usually every 3-5,000 miles. For less wear and tear on the engine, drivers in cold climes (sub-zero driving temperatures) should drop their oil weight from 10-W30 to 5-W30. Your mom and dad would probably suggest simply moving to someplace warmer.
Description: The typical oil filter consists of a high-strength steel housing containing various types of filtering media. An anti-drainback valve prevents oil from running out of the filter when the engine is off. Today's oil filters have a convenient spin-on design that makes removal and installation easy.
Purpose: The oil filter sifts out contaminants, allowing the oil to flow through the engine unrestricted. Should the oil filter become restricted or clogged with contaminants, they will flow around the filter. This bypassing is a safety mechanism, but you never want to let oil and filter changes go so long that bypassing takes place.
Maintenance Tips/Suggestions: For best results, consult your owner's manual, but consider that your driving probably constitutes a severe maintenance schedule. Usually, this means oil and filter changes every 3,000 miles or 3 months. If you change the filter yourself, dispose of it properly. Take used filters to a facility that accepts them. Used filters can be crushed, removing the used oil and the steel part of the filter can be recycled. The oil from one used, seemingly innocent filter leaking into a landfill can taint 62,000 gallons of ground water.
Content provided by Car Care Alliance Suspension and Steering Systems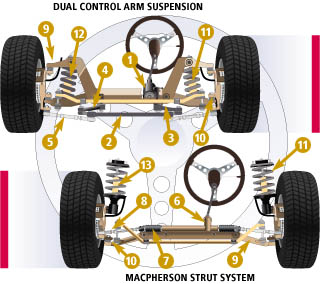 The primary function of your cars suspension and steering systems is to allow the wheels to move independently of the car, while keeping it "suspended" and stable. Any play or uncontrolled motion in these systems results in a deterioration of handling and accelerated tire wear. Vehicle alignment is closely tied to the condition of the suspension and steering systems.
Steering Systems
Worn or loose components affect the ability to control the toe angle, and may result in a loss of directional stability and accelerated tire wear. The main components of a Conventional system are:
1. Steering Gear Box
2. Center Link
3. Pitman Arm
4. Idler Arm
5. Tie Rods
The main components of a Rack and Pinion steering system are:
6. Rack and Pinion Assembly
7. Bellows Boots
8. Tie Rods
Suspension System
Worn or loose components affect the suspension systems ability to control motion and alignment angles, resulting in a deterioration of vehicle handling and stability, and accelerated tire wear. The main components of the suspension system are:
9. Control Arms
10. Ball Joints
11. Springs (Coil or Leaf)
12. Shock Absorbers
13. Struts Tires & Wheels: Tire Rotation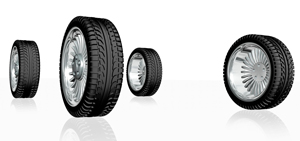 Description: Tire rotation refers to the regular practice of switching the position of each tire on the car.
Purpose: Tire rotation helps to equalize tread wear and is critical to gain the maximum life from your tire investment.
Maintenance Tips/Suggestions: Refer to your owner's manual for the recommended rotation interval and pattern; generally a rotation interval of 6,000 miles is recommended. The rotation pattern varies with different makes and models, which shows the tire locations during rotation. Some vehicles have different size tires on the front and back or directional tires. This limits the locations that a tire may take on the vehicle. When in doubt, check the owner's manual or consult a professional technician for guidance. Tire rotation time also offers a good opportunity to have the tires and wheels balanced. It's another step you can take to maximize your tire investment.
Content provided by Car Care Alliance For those of you who aren't mechanically-savvy, you probably still understand that transmission problems are among the most expensive repairs required for your vehicle. That's because your transmission is a complex system of gears that transmit mechanical power to your engine, ultimately determining the rate of speed you travel. Transmissions convert this power from the engine so that it can supply high torque at low speeds, in addition to selecting which gears are appropriate based on the driving conditions. This is especially true with automatic transmissions—by far the most popular transmissions found in the US. Rather than using a clutch to engage the transmission, automatic transmissions use a torque converter (between the engine and transmission) to control the number of gears when driving. Supplying the power to regulate gear action is a demanding task, which is why it's important for you to contact us, your transmission service specialists. Here are some of the essential maintenance tasks we complete:
Drain transmission and torque converter
Refill Automatic Transmission Fluids (ATF) with new fluid
Transmission problems typically arise when regular service is neglected. When fluids aren't properly changed, heat caused from mileage friction results in rough shifting, accelerated wear, and even complete failure. That's why it's essential that you turn to us to make sure that your transmission is lubricated and cooled by the finest quality transmission fluids, installed by our service professionals. Engine Repair & Replacement
Clutch Replacement & Repair
Steering and Suspension Repair and Replacement
We are a full service automotive shop